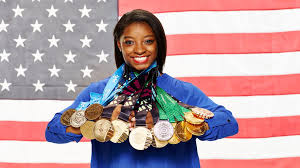 Simone Biles is the most decorated gymnast (male or female) of all time! Being the most decorated means means that she has earned more medals for her talents than any other competitor in the sport. What an incredible feat! As of November 1, 2019, Simone has earned 25 World medals in total, 19 of them World gold medals, as well as five World all-around titles.
Simone Arianne Biles was born on March 14, 1997 in Columbus, OH. Simone's mother could not care for her or her siblings so the children were in and out of foster care. That is, until Simone's grandfather Ron, and his second wife, Nellie began caring for the children. In 2003, when Simone was 6 years old, Ron and Nellie adopted Simone and her younger sister Adria.
Biles first tried gymnastics around the time she was adopted. She began officially training as a gymnast at age eight. Biles started her elite career at the 2011 American Classic in Houston, TX. She placed third all-around, first on balance beam and fault, fourth on floor exercise, and eighth on uneven bars. In 2012, Biles switched from public school to homeschooling to allow her to increase her training to 32 hours per week.
Biles made her senior international debut at the 2013 American Cup. Biles competed in the 2016 Olympic Games in Rio de Janeiro, Brazil where she earned gold medals in the All-Around, Vault, and Floor Exercise. Biles earned a bronze medal on Balance Beam and helped the American Women's Gymnastics Team earn a gold team medal.
After the 2016 Rio de Janeiro games, Biles co-wrote an autobiography of her life called Courage to Soar: A Body in Motion, A Life in Balance. The book went to number one on The New York Times bestseller list for Young Adult and was turned into a Lifetime movie. Biles also competed on Dancing with the Stars.
After Biles' hiatus to work on other ventures, she made a comeback in 2018. Since her comeback, Biles has earned nine gold medals and two silver medals. Biles hopes to compete for the US team once more at the 2020 Olympic Games in Tokyo, Japan.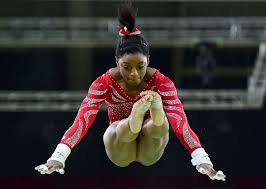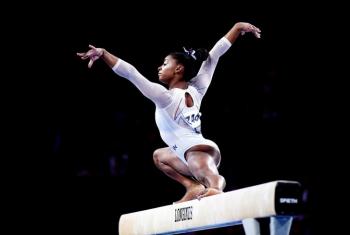 Did You Know?
At 4'9" tall, Simone Biles was the shortest athlete to complete at the 2016 Rio de Janeiro Olympic Games. She was the shortest of 555 athletes!
Simone's sister Adria is also a gymnast.
Simone was the first female gymnast to win three World all-around titles in a row and she was the first African-American gymnast to become the world all-around champion.
There are four gymnastics moves named after Ms. Biles.
Check These Out! Websites