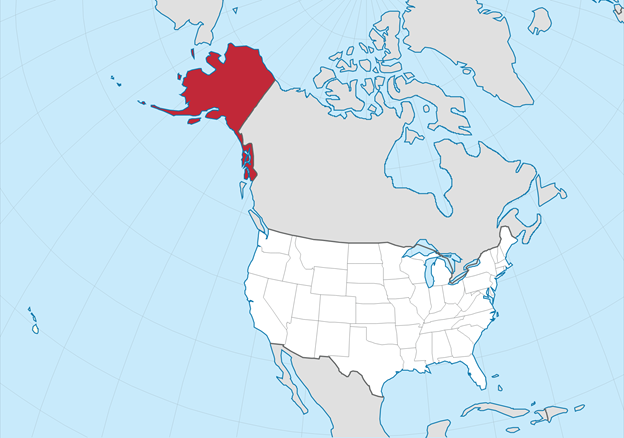 Known as 'The Last Frontier' or 'The Land of the Midnight Sun', Alaska is the most northerly state in the United States. It is the largest state, and much of it lies in the Arctic Circle. It has a cold climate, and because it is so far north, during the summer the sun is up almost the entire day, and during the winter the sun sets very early. Imagine having daylight sun at midnight, or watching the sun set while you are eating lunch! Due to the open tundra and the cold weather, it has been difficult to develop and explore Alaska, but there was a gold rush in the late 1800s, and many of the explorers and miners fell in love with the wilderness and chose to stay. These new settlers lived among the Alaska natives, including the Inuit and Aleut people, who had inhabited the region for 15,000 years or more. 
Did You Know?
Of the 20 highest mountains in the United States, 17 are in Alaska. The highest peak in North America is there.  It is named Denali, which is the Indian word meaning "The Great One." 
The Yukon River, almost 2,000 miles long, is the third longest river in the U.S. There are more than 3,000 rivers in Alaska and over three million lakes. The largest, Lake Iliamna, encompasses over 1,000 square miles. 
Alaska has an estimated 100,000 glaciers, ranging from tiny cirque glaciers to huge valley glaciers. There are more active glaciers and ice fields in Alaska than in the rest of the inhabited world. The largest glacier is the Malaspina at 850 square miles. Five percent of the state, or 29,000 square miles, is covered by glaciers. 
There are more than 70 potentially active volcanoes in Alaska. Several have erupted in recent times. The most violent volcanic eruption of the century took place in 1912 when Novarupta Volcano erupted, creating the Valley of Ten Thousand Smokes which is now part of Katmai National Park. 
Each year Alaska has approximately 5,000 earthquakes, including 1,000 that measure above 3.5 on the Richter scale. Of the ten strongest earthquakes ever recorded in the world, three have occurred in Alaska. North America's strongest recorded earthquake, with a magnitude of 9.2, happened on March 27th, 1964. 
Northern lights, or the aurora borealis, are naturally occurring colored lights in the upper atmosphere. The city of Fairbanks is considered one of the best places in the world to see this gorgeous phenomenon. 
Check These Out! Websites