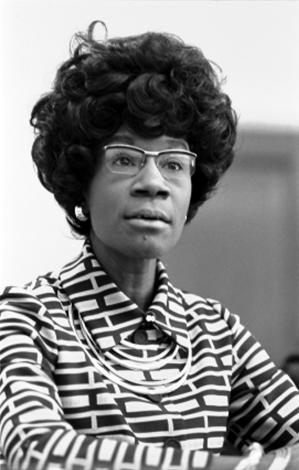 Born Shirley Anita St. Hill in 1924, Shirley Chisholm was the oldest of four daughters to immigrant parents Charles St. Hill, a factory worker from Guyana, and Ruby Seale St. Hill, a seamstress from Barbados. She graduated from Brooklyn Girls' High School in 1942 and from Brooklyn College cum laude in 1946, where she won prizes on the debate team. Although professors encouraged her to consider a political career, she acknowledged that she faced a "double handicap" as both Black and female.
Chisholm first worked as a nursery school teacher. She earned a master's degree from Columbia University in early childhood education in 1951. By 1960, she was a consultant to the New York City Division of Day Care. She got involved in many causes, joining the local chapters of the League of Women Voters, the National Association for the Advancement of Colored People (NAACP), the Urban League, and the Democratic Party Club in Bedford-Stuyvesant, Brooklyn.
In 1965, Shirley Chisholm ran for and became the second African American in the New York State Legislature. Chisholm was the first African American woman to serve in the United States Congress. She was a member of the United States House of Representatives from 1969 to 1983 as a Democrat representing the state of New York. She introduced more than 50 pieces of legislation and championed racial and gender equality, the plight of the poor, and ending the war in Vietnam. She also served on the House Rules Committee.
Throughout her time in Congress, Chisholm worked to improve opportunities for residents of the inner city. She opposed the military draft and supported spending increases for education, health care, and other social services. She fought for Head Start, an early education program begun under President Lyndon Johnson. During her seven terms in office, she co-founded the Congressional Black Caucus, advocated for the Equal Rights Amendment, and supported the 1972 Title IX amendment aimed at ending discrimination against women in federally funded education and sports programs.
Chisholm was the first African American and the first woman to run for president for a major party. She campaigned for the 1972 Democratic presidential nomination but did not win.
We still reap the benefits of Shirley Chisholm's ideas today. She was the architect for WIC (Special Supplemental Nutrition Program for Women, Infants, and Children), a federal program that offers healthy foods for children 0-5 and pregnant women, as well nutrition education, counseling and referrals to local health and welfare agencies. Chisholm also helped expand the Federal school lunch program. Shirley Chisholm was an amazing educator and politician, always thinking of the working man and his family.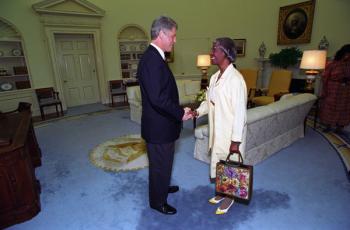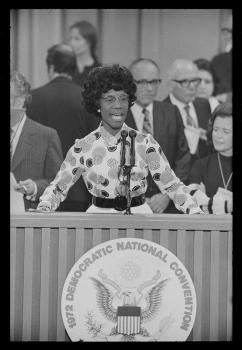 Did You Know?
Her motto, and the title of her autobiography, was Unbought and Unbossed. 
Chisholm campaigned for Brooklyn's first Black judge, Lewis Flagg Jr.
While in Congress, Chisholm was named the honorary co-president of National Association for the Repeal of Abortion Laws (NARAL) in 1969 and became co-founder the National Organization for Women (NOW) in 1970. 
Shirley's work helped pass the 1974 Minimum Wage Law.
President Bill Clinton nominated Chisholm to serve as United States Ambassador to Jamaica in 1993. Unfortunately, she had to turn down the nomination due to failing health.
Shirley Chisholm died in 2005 at the age of 80.
In 2014, the United States Postal Service issued a forever stamp in honor of Shirley Chisholm.
In 2015, President Barack Obama awarded Shirley Chisholm with a posthumous (after death) Presidential Medal of Freedom.
Check These Out! Websites