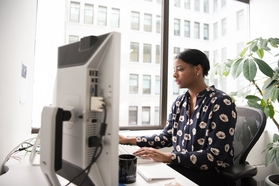 Looking for a job in an office, making $20 per hour?
Earn a credential that can lead to in-demand office jobs by attending a Microsoft Office training, resulting in a secretary or administrative assistant job paying $20 per hour.
Euclid Public Library will hold a free Microsoft Office training in partnership with OhioMeansJobs/Cleveland-Cuyahoga County, Cuyahoga County Job and Family Services, and Aspire Greater Cleveland beginning July 5, 2022. The Microsoft Office Training will prepare you for career pathways in office and administrative roles. High School Diploma or GED is not required to attend the training.
Click here to complete a survey to take your first step to taking control of your future.