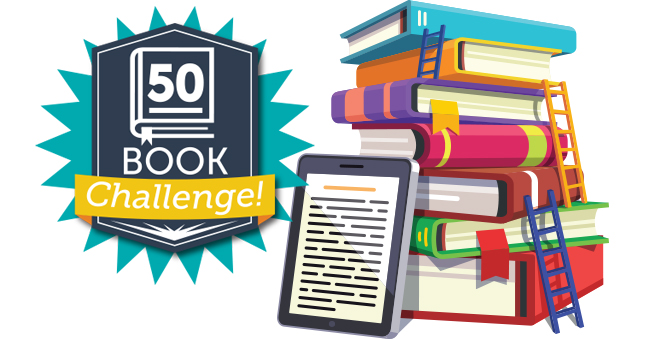 Expand your Reading with the 50 Book Challenge!
Starting Tuesday January 2nd, 2018, children in grades 3-6 can come to the Children's Library to pick up the 50 Book Challenge book list! There are over 100 books on the list right now and we will be updating the list
There is no time limit to complete the challenge, just read and enjoy! When you have read a book, visit the Children's Library to answer questions about the book to prove that you read it. We will keep track of your progress for you. You will be rewarded for your reading excitement at 10, 25, 35, and 45 books with a grand prize of a Euclid Public Library t-shirt once you have read 50 books! There is something for all types of grades 3-6 readers on the list.
The 50 Book Challenge is great for readers who want to branch out and read new things as well as to encourage reading in readers who need a little help.
Note: This challenge was designed for students in grades 3-6. There are a few "easier" books on the list as a jumping off point but the content and reading level of the majority of the books is targeted for grades 3 through 6. We are glad that your younger child is interested in participating but they will not be able to read most of the books on the list until they are in 3rd grade or higher and that is totally okay. We targeted this program toward grades 3-6 purposely and ask that you please wait until your child is in 3rd grade or higher to start them in the challenge. They will be more confident and engaged when they are capable of reading more of the books on the list.